A Once in a (Wild-) Lifetime Experience
Conservation
Rescue
Awareness
What to Expect
Your educational close encounter experience with Jenny's rescued wild animals lasts for about 3 3/4 hours. We start you off with a coconut drink at our reception and the mandatory safety briefing.
Afterwards, we go straight into action with a beautiful display of talent from our fantastic zebra stallion Chaka. Our experienced animal trainer Jenny will show you how 100% positive reinforcement only animal handling works. It is based on trust and rewarding only. Guests can feed, touch and get hands on with Chaka. You will visit Maurice, Max, Monchichi and Mortina, our handsome little Bush Baby monkeys. They love nothing more than a bit of attention and pasta. From here we move to our Vervet monkeys and our ring-tailed lemurs which are living with some more rescued animals in harmony together.
We encourage guests to get involved with feeding these loveable critters. You have even more fun if you don't mind getting your hands a little dirty.
Next come Gizmo and Gimmick, our very rare striped hyenas. You cannot enter their enclosure. From your side of the safety barrier, you can feed and watch them from very close by whilst we will try to change your mind about this misunderstood beautiful species.
Another exciting moment of your tour is visiting Aslan. He is a genuine white lion, not an albino. He is one of only 300 white lions in the world. Born in March 2014, he has grown up into a strong huge male. This is why you cannot enter his enclosure. You can watch him eat his fresh meat from your side of the safety barrier. While observing Aslan, you will receive valuable information about white lion conservation.
A highlight of your tour will be to meet our white lioness girl Savannah. With Savannah, in her enclosure, you can witness a personal, careful encounter between a young lioness and you human visitors. Sometimes, the end of her tail may brush against the legs of visitors as she meets you. As always, you are very welcome to take photographs of her. She has been a really brave girl ever since she came to us. We cannot say how long this will remain possible. It depends on Savannah's personality as she reaches her lioness-puberty.
Nevertheless, as we never force any animal to interact with you. So, there are no guarantees that and how she will decide to interact with you. However, you get to cheer her with a glass of sparkling wine or still mineral water.
Finally, there will be a surprise big cat to observe.
On the 26th of July 2018, we were able to receive two young cheetah brothers from an accredited Conservation Center: Maktoum and Sharqi. We expect to get one or two girl cheetahs soon so we can contribute to the conservation of this very endangered species.
During your tour, you will sit in a row in the Cheetah enclosure and watch as the 2 cheetah boys move freely around you. You can enjoy viewing the two cheetahs chasing a ball to show their hunting skills. Cheetahs reach 100 km / h in no time. You can take pictures and film them. As we never force any animal to do anything against its will, we cannot guarantee that, as it may happen sometimes, you may be able to touch a cheetah. Jenny and Ennio will try to persuade the cheetah lads to get so close to you that you can touch them and even take a picture with them for your memories. They may purr loudly with happiness when they enjoy meeting you. Sometimes, it happens that one of them starts to interact with you playfully up close and personally. That guarantees adrenaline pure on your part.
At any time during the tour, please feel free to ask your questions. Jenny will be most happy to inform you more about wildlife conservation and animal welfare, both at Cheetah's Rock, and what is needed worldwide. As she never forces any rescued wild animal to interact with you against its will, there is no 100% guarantee that you can interact with every animal resident of Cheetah's Rock. In general, however, the rescued wild animals welcome interaction with you as it enriches their social lives.
At Cheetah's Rock we move people's hearts and minds by introducing them to wild animals in a truly unique and magical way.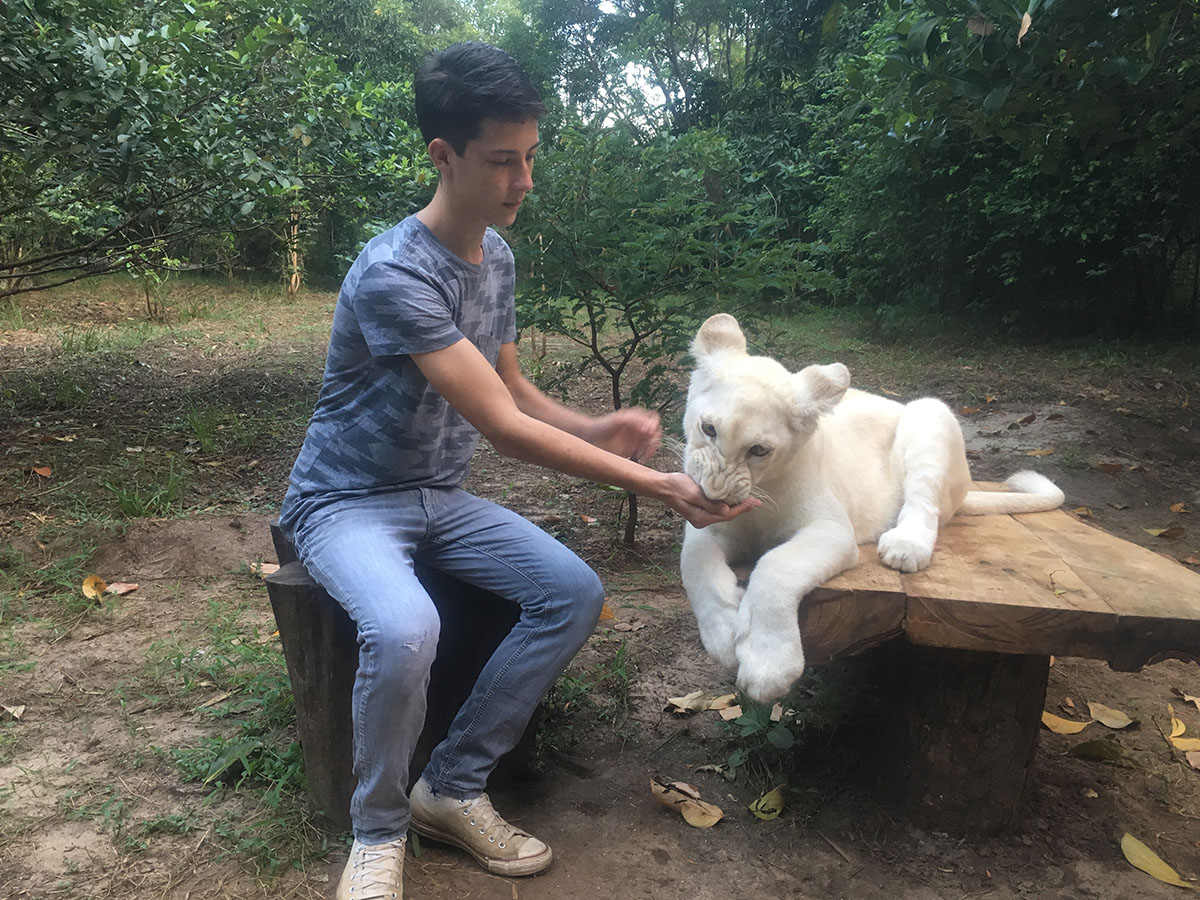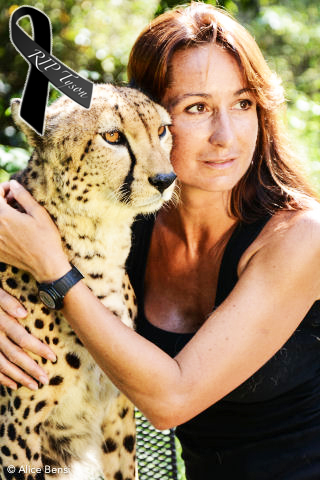 It is with great sadness that we need to inform you that our beloved Cheetah Tyson has died.
This tragic event took place despite all veterinary efforts, in his tenth year of life. Our veterinarian specialist for big cats diagnosed bacterial pneumonia as an immediate cause of death. He did not rule out that Tyson had been suffering from a progressive disease such as lung cancer for some time. Cheetahs, who have a generally weak immune system, tend to develop this type of disease as they get older: few cheetahs live longer than 8 years.
Tyson was with us since 2011. He was the first big cat we took care of. He loved always to interact with humans who respected his free spirit. He enjoyed receiving love from us and from dear visitors. He was a member of our family.
He will be remembered for his majestic yet gentle nature by all of us. The sound of him purring happily will ring in our ears forever.
The death of Tyson is a shock to the entire Cheetah's Rock team. It is a heavy blow to our efforts to build a group of genetically unrelated cheetahs here in Zanzibar.
In July 2018, we were able to receive two cheetah brothers from an accredited Conservation Center. We expect to get one or two girl cheetahs later this year so we can contribute to the conservation of this very endangered species.
WHAT OUR GUESTS SAY ABOUT US
"I can't really put it into words except you HAVE to come visit this little gem on Zanzibar!"
"Stunningly beautiful animals – loved every minute of my visit"
"Wow, wow, wow – I got to hang out with a Cheetah and a zebra – how can a day get better than that?!"
"Awesome!"
"Brilliant – you have to go here"
"I'm not 100% sure – but I think I just had the best day of life so far (and I'm married and have 2 kids! )
"Experience of a life time"
"Up close and personal with wild animals"
"Cheetah's Rock rocks"
"Amazing interaction with wild animals"
"Not to miss"